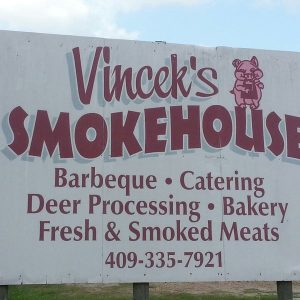 Since 1985, Vincek's Smokehouse has been serving their pecan wood flavored smoked meats and treats, and a variety of freshly baked kolaches, pies, cakes and breads. Consistent quality and unparalleled customer service has earned this family owned and operated business repeat customers for more than two decades.
Vincek's Smokehouse has been named twice (2003 & 2008) to the "Top 50 Best Places to Eat Barbecue" by Texas Monthly magazine, as well as being in the Houston Chronicle and many other publications.
At Vincek's Smokehouse, the bakery case is always full of freshly baked kolaches, homemade breads, pies and cakes. The Smokehouse features a full service meat market with the freshest cuts of meat, freezer meat packages and tasty smoked meat, such as pecan-smoked sausage, bacon, ham, beef sticks, jerky and summer sausage. The Smokehouse also offers custom processing for deer and other game. Custom gift baskets can be made for any occasion to fit any budget. Choose from fresh-baked items to homemade jellies and sauces, or meat and cheese items. Always the perfect gift!
Vincek's Smokehous is located at 139 S Dill St #7455, East Bernard, TX 77435. Their store hours are Tuesday through Saturday 7am – 6pm, Sunday 8am – 2pm, closed on Monday.
For any questions, please call: (979) 335-7921
To learn more, please visit: https://www.vincekssmokehouseinc.com/index.html