Touch a Truck
September 17, 2022 @ 9:00 am

-

2:00 pm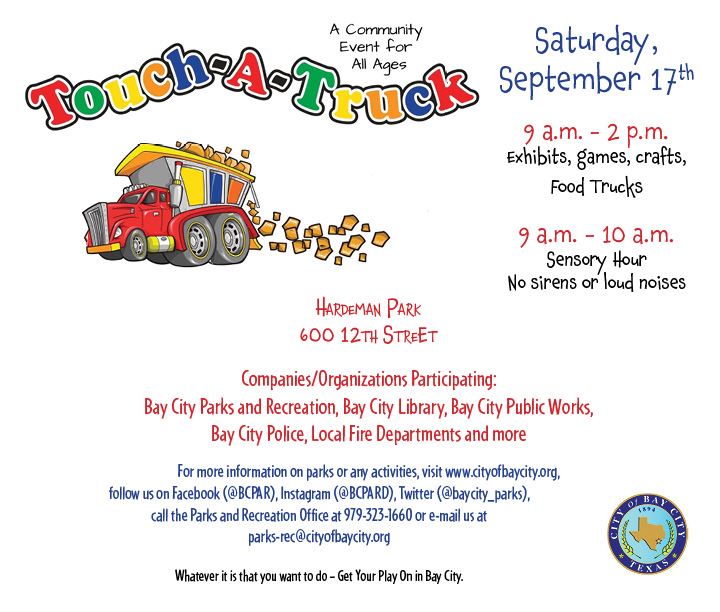 Honk, Honk, Beep, Beep! Bay City will host its 3rd annual Touch-A-Truck event at Hardeman Park on Saturday, September 17th from 9 a.m. – 2 p.m.
This free community event is hosted by the Bay City Parks and Recreation and Public Works Departments.
From 9 – 10 a.m. there is a sensory-friendly hour to accommodate individuals with special needs who may be sensitive to horns, sirens and lights.
Children and their families will have the opportunity to touch, sit-in and explore real vehicles from Public Works, Police and Fire Departments as well as electrical trucks and trash trucks. In addition to heavy machinery (CAT Motor Grader, CAT Loader) from Public Works, some of the vehicles in attendance include Bay City Fire Department's fire truck and Bay City Police Cars.
For children who love trucks, this is will be an unforgettable opportunity to get hands-on with these vehicles.
Word of Caution…The trucks and vehicles on display are working machinery, so extreme caution is required when walking around trucks and vehicles or getting in or on them. An adult or guardian must accompany children always. Closed-toe shoes must be worn always in, on or around the vehicles.
Want to display a vehicle or have a food truck at this event? Contact the Parks and Recreation Department at 979-323-1660 or parks-rec@cityofbaycity.org to find out how!
Want more information on this event or other Parks and Recreation's programs, events, facilities or parks? Check out the city's webpage at https://www.cityofbaycity.org/190/Parks-Recreation; or follow us on Facebook: @BCPAR; Instagram: @BCPARD or Twitter: @baycity_parks.