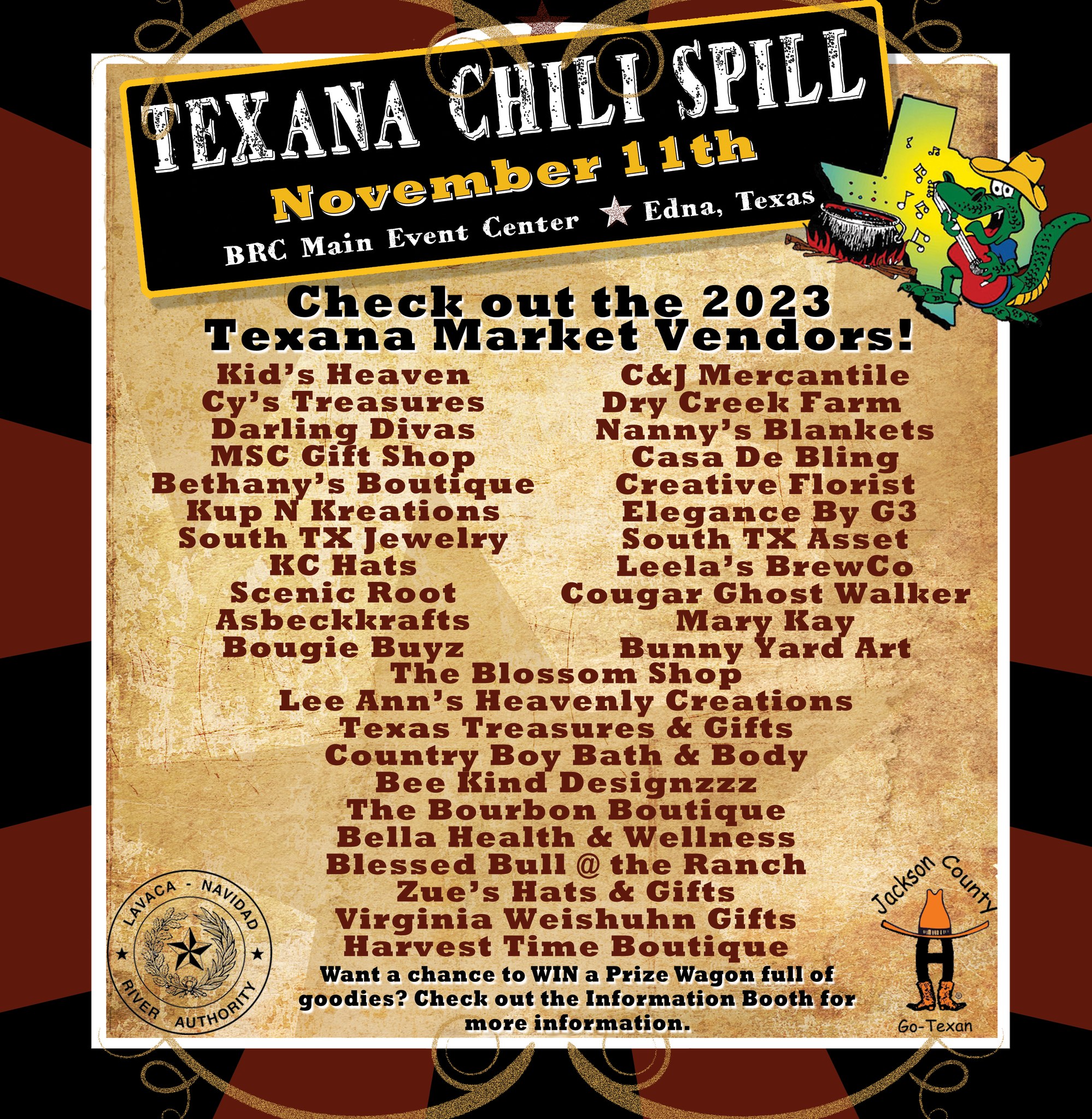 Join us for a full and final day of fun on Saturday, November 11th! Cook-off competitions start at 9:00 a.m. with the Bloody Mary competition followed by Beans, Go-Texan Jackpot Chicken, Gumbo, Go-Texan Jackpot Ribs, Chili, and Go-Texan Brisket competitions, along with our KidsQue competition! The Jackson County Go-Texan Committee's 1st place brisket winning team will receive a whopping $3500 in cash prize money and can also enter the Top Gun Jackpot for a chance to win extra cash money.
From 11:00 a.m. to 11:00 p.m. you can join us in the Wine Garden as we spotlight local artists! Taking the stage from 1:00 p.m. – 4:00 p.m. is Jaron & Ashley Post! Next, we will welcome back Stephanie Ross from 4:00 p.m. – 7:00 p.m. and closing out the Wine Garden is Zachary Grant! You can grab some food from one of our many food vendors and listen to artists perform the classics along with their own music. Be sure to stop by The Beer Ranch and Lavaca Bluffs Winery for some tasty beverages!
Returning to this year's event on Saturday, November 11th is the Cornhole Jackpot Tournament! Registration for the Cornhole Jackpot Tournament starts at 9:30 a.m. with the Tournament beginning at 10:00 a.m. on the cook-pad by the stage. For registration forms and more information, visit our website www.texanachilispill.com. Also, join us at the Texana Market for a full-fun day of shopping from local vendors! There will also be Helicopter Rides, and a FREE Kids Zone from 10:00 a.m. – 5:00 p.m. with fun inflatables, a craft zone, face painting, nature exhibits, and much more. Starting at 6:00 p.m. is the Texana Heat Jalapeno Eating Contest sponsored by Whataburger! The Contest is FREE and limited to 12 participants. We'll also have several food trucks on-site serving up your favorite festival foods!
Admission fee is only $5.00 per person (3 years and older) and includes everything the event has to offer, including all of the fun kids zone activities. Brackenridge Main Event Center is located about 6 miles south of Edna on State Highway 111. If you would like to participate in the 22nd Annual Texana Chili Spill or sign your kiddo up for the Kids Que Competition, please contact the LNRA Main Office at 361-782-5229.