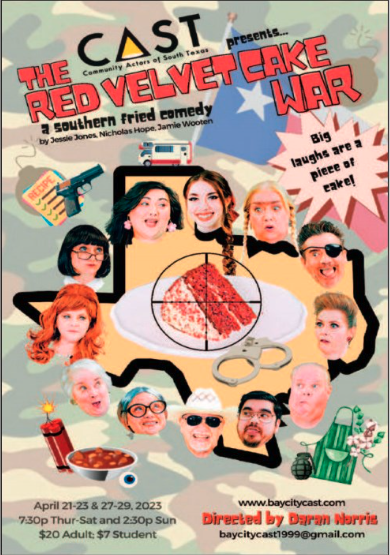 CAST presents The Red Velvet Cake War: a southern friend comedy.
Big laughs are a piece of cake!
by Jessie Jones, Nicholas Hope, Jamie Wooten
Directed by Daran Norris 
In this funny Southern-fried comedy, the three Verdeen cousins
(Gaynelle, Peaches, and Jimmie Wyvette) could not have picked a worse
time to throw their family reunion. 
Their outrageous antics have delighted local gossips in the small town of
Sweetgum and the eyes of Texas are upon them, as their
Aunt LaMerle is quick to point out. 
Having "accidentally" crashed her minivan through the bedroom wall
of her husband's girlfriend's doublewide, Gaynelle is one frazzled
nerve away from a spectacular meltdown. 
Enjoy the show April 21-23 and April 27-29, 2023.
7:30 Thursday- Saturday/ 2:30pm Sunday
$20 Adult tickets, $7 Student tickets
For more information, visit their website here.