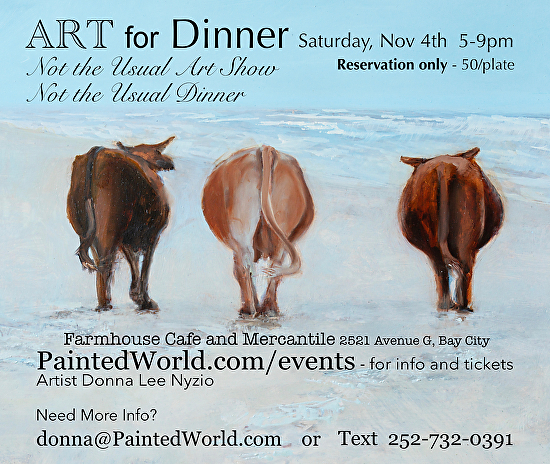 This is more than an art exhibit and more than a dinner out…. This is an evening of food, fun, and art.
5pm Cocktails and Meet the Artist // 6pm Dinner and a Show with Demonstrations.
Reservation =$50/plate for 5 courses at the Farmhouse Cafe and Mercantile.
Plein Aire Magazine, a national art magazine, is generously donating a copy of the current issue to all attendees! It is a beautiful magazine with wonderful artists for you to enjoy. Oh and hey, I (Donna Lee Nyzio) have my own page, and you can see Nick and his horse Lemonade there as well!
I haven't convinced you yet? Do you like coffee? Locally roasted? How about Biscotti from a 300 year old family recipe….. That's right.. we have that too. You know you want to come for that.
Need more?.. Okay…Okay
I did a painting of cows … in a cotton field …. with a Q-tip….. that's right…. I will demonstrate this live along with a few other techniques. And the exciting part? … you can try it as well….. ! I will draw out a longhorn in a cotton field for ya'll to try out these techniques…. The finished painting will be displayed at the December cocktail party.
This is a reservation only, ticketed event…. $50 per plate and will be a 5 course Surf and Turf Menu
Email [email protected] for more information
Text 252-732-0391 to reserve a spot or if you have a question… I can work with you and solve any questions…but you have to ask!