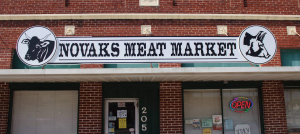 Novak's Meat Market offers the best, locally-sourced, fresh meat products to customers in El Campo. They also offer smoked meats, cheeses, pantry products, noodles, fresh produce grown in real, local gardens, and Novak's Meat Market All-Purpose Seasoning.
Pork cuts, chicken, and a selection of fish are offered as well. Novak's Meat Market also makes their own homemade sausage which includes pork and beef, pure pork, and pure beef sausage.
You can find Novak's Meat Market at 205 N Washington St, South-Plains, TX 77437. They are open Monday – Saturday from 7 AM – 6 PM.
For more information, call 979-543-8664 or check out their Facebook https://www.facebook.com/novaksmeatmarket/